Kyoto University's iCeMS to Co-Organize the 2013 World Stem Cell Summit, San Diego, Ca., Dec. 4-6
October 1, 2013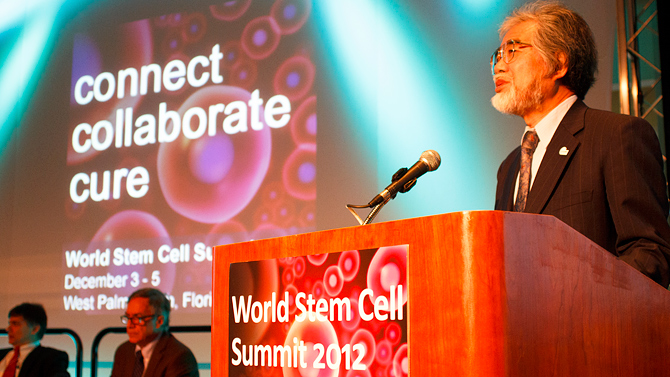 Norio Nakatsuji delivering a plenary talk at the 2012 World Stem Cell Summit.
For the second straight year, Kyoto University's Institute for Integrated Cell-Material Sciences (iCeMS) will serve as a co-organizer of the 2013 World Stem Cell Summit, which will take place at the Manchester Grand Hyatt in San Diego, California on December 4-6.

The event, put on by the Genetics Policy Institute (GPI), features a program that includes seminars from 170 leading authorities in the stem cell and regenerative medicine community, poster forums, and exhibition booths in an effort to accelerate the development of stem cell therapies by building and strengthening collaborative networks. The World Stem Cell Summit is expected to bring together more than 1,200 participants from 40 countries.

Bernard Siegel, founder and co-chair of the Summit and executive director of GPI said, "We are honored to have Kyoto University's iCeMS serve as an organizing Summit partner. Under the visionary leadership of Professor Norio Nakatsuji, iCeMS continues its groundbreaking, cross-disciplinary research tying together materials science and stem cell biology. We also recognize the significant contributions of the Japanese Society for Regenerative Medicine (JSRM) to our upcoming World Stem Cell Summit."

The iCeMS will hold a workshop titled "Stem cell open innovation in Japan: industry-academia collaboration on stem cell large-scale production and quality control," scheduled for the second day of the Summit, December 5. Speakers will include Drs. Norio Nakatsuji (iCeMS Founding Director), Chikafumi Yokoyama (ReproCELL, Inc.), Masanari Kitagawa (TAKARA BIO INC.), Masaki Takahashi (Genetein Co., Ltd.) and Masao Fukushima (Sumitomo Bakelite Co., Ltd.).

"Our participation as co-organizer at last year's World Stem Cell Summit served as a catalyst for numerous new collaborations and provided global recognition of our accomplishments," said Nakatsuji. "We look forward to joining other Japanese academic institutions and industry leaders attending the Summit, which we believe to be the most important strategic meeting fostering collaborations and strengthening ties among stakeholders. I am again very honored to serve as co-chair of the World Stem Cell Summit."

Other 2013 organizing partners include the California Institute for Regenerative Medicine, Mayo Clinic, Scripps Research Institute, Sanford-Burnham Medical Research Institute and Kyoto University's iCeMS.

The deadline for early registration discounts is October 27 while the deadline for poster abstract submissions is November 8. For more information about sponsoring or attending the World Stem Cell Summit, contact Alan Fernandez at +1 (650) 847-1640 or email Alan@genpol.org. To learn more about the Summit, visit: www.worldstemcellsummit.com. Also, stay informed and in touch: Twitter @WSCSummit, Facebook and LinkedIn.

About Genetics Policy Institute (GPI): GPI is a 501c3 nonprofit foundation with the mission to promote stem cell research and its application in medicine to develop cures. GPI pursues this mission through production of its flagship annual World Stem Cell Summit, publication of the annual World Stem Cell Report, Stem Cell Action Awards, special projects, speaking engagements, teaching initiatives and strategic collaborations.

About Kyoto University iCeMS: The Institute for Integrated Cell-Material Sciences (iCeMS) at Kyoto University in Japan aims to advance the integration of cell and material sciences -- both traditionally strong fields for the university -- in a uniquely innovative global research environment. The iCeMS combines the biosciences, chemistry, materials science, and physics to create materials for mesoscopic cell control and cell-inspired materials. Such developments hold the promise of significant advances in medicine, pharmaceutical studies, the environment, and industry.
---
Related links