Heidelberg Joint Symposium Achieves Significant Cross-Disciplinary Research Progress

July 28, 2011
One of the largest international meetings ever co-hosted by Kyoto University overseas, the Heidelberg-Kyoto Joint Symposium held July 21–23 at the University of Heidelberg attracted close to 300 participants to an extensive series of presentations and discussions featuring many noted speakers in the fields of cell biology and material science.

This symposium was both an official event marking the 650th year since the founding of the University of Heidelberg as well as of the

150th anniversary of German-Japanese friendship.

Entitled

"Crossing Boundaries: Stem Cells, Materials, and Mesoscopic Sciences", the conference covered all major areas of study being pursued at the two co-organizing institutions, Kyoto University's Institute for Integrated Cell-Material Sciences (iCeMS) and the University of Heidelberg's

Collaborative Research Center SFB 873. Over three days, a total of 33 leading researchers (including 10 iCeMS scientists) gave presentations at the Communications Center of the German Cancer Research Center (DKFZ) on the campus of the University of Heidelberg, accompanied by 47 poster presenters.

Aiming to promote cross-disciplinary research by breaking through boundaries between the life and material sciences, the symposium emphasized innovations in the creation of novel approaches for stem cell technologies. It was the second joint event held by the two institutions, following on a seminar at the iCeMS in November 2010, and the idea for this larger meeting was born out of a series of discussions between iCeMS Director Prof. Norio Nakatsuji and SFB 873 Speaker Prof.

Anthony D. Ho.

Dignitaries offering welcoming remarks on the first day included Kyoto University Executive Vice President for Research Prof.

Kiyoshi Yoshikawa, Lord Mayor of Heidelberg Dr.

Eckart Würzner, Chairman and Scientific Director of DKFZ Prof. Dr.

Otmar D. Wiestler, and University of Heidelberg Vice Rector for Research and Structure Prof. Dr.

Thomas Rausch.

Presentations on the second and third days were divided into the following six sessions:
Evolution of Stem Cell Systems
Pluripotency and Reprogramming
Niche and Polarity
Cell-Material Integration
Meso-Bio Single Molecule Imaging
Chemical Biology and Nano-/Meso-/Micro-Engineering
The symposium concluded with an award ceremony for the best poster presenters, highlighting work by the most promising young scientists in the field.

Given the solid success of this event, cooperation and collaborative research projects between the two institutes are expected to accelerate, resulting in further advances integrating the cell and materials sciences.
---
List of Poster Prize Winners
Category I, Christine Muth
"Engineering an artificial, hematopoietic stem cell niche: Mimicking signals of the extra cellular matrix"
Category II, Ganesh Pandian
"Synthetic transcription factors for stem cell control"
Category III, Fani Papagiannouli
"The Hox gene Abd-B regulates stem cell niche positioning to prevent premature aging of drosophila testis"
Category IV + VI, Thomas Kaindl
"Regulation of dynamic cell response with laterally confined domains embedded in supported membranes"
Category V, Gabor Daum
"Cell-to-cell movement of a stem cell inducing transcription factor in plants"
Special, Nobuhiro Morone, Ganesh Pandian, and Hiroyuki Kodama
"Imaging the interface between cell and material sciences: Namely, 'Mesospace'",
"Synthetic transcription factors for stem cell control", and
"Managerial approaches to facilitate interdisciplinary research -- Case study at iCeMS, Kyoto University" respectively
---
About Collaborate Research Center SFB 873
Collaborative Research Center SFB 873, a part of Heidelberg University and Heidelberg University Hospital, first received Deutsche Forschungsgemeinschaft (DFG) funding on July 1, 2010. Its long-term goal is to define the regulatory principles underlying the balance between stem cell maintenance and differentiation in diverse organisms on a mechanistic level. This objective will be accomplished by studying the intrinsically and extrinsically controlled self-renewal process in various model systems including Arabidopsis, Hydra, Drosophila, Medaka, Xenopus, as well as mouse and human. By comparing divergent and conserved modules of stem cell control across the kingdoms of life, this research center will fundamentally advance understanding of the principles and molecular mechanisms that control stem cell function during development, homeostasis, injury repair and disease.
---
The symposium venue at the
German Cancer Research Center (DKFZ)


Inside the symposium venue


At the opening ceremony, from left: Motomu Tanaka, Anthony D. Ho, Kiyoshi Yoshikawa,
Susumu Kitagawa, Otmar D. Wiestler, and Norio Nakatsuji


Prof. Ho welcoming iCeMS participants
with congratulatory words on the recent
Women's World Cup victory


Lord Mayor of Heidelberg
Dr. Eckart Würzner
Kyoto University Exec. V.P. for Research
Prof. Kiyoshi Yoshikawa, delivering an
opening address almost entirely in German


Profs. Nakatsuji and Ho during a break

Researchers discussing poster presentations

Poster award presented to
Ganesh Pandian


Poster award presented to
Nobuhiro Morone


Poster award presented to
Hiroyuki Kodama


Prof. Ho presenting a gift to Prof. Nakatsuji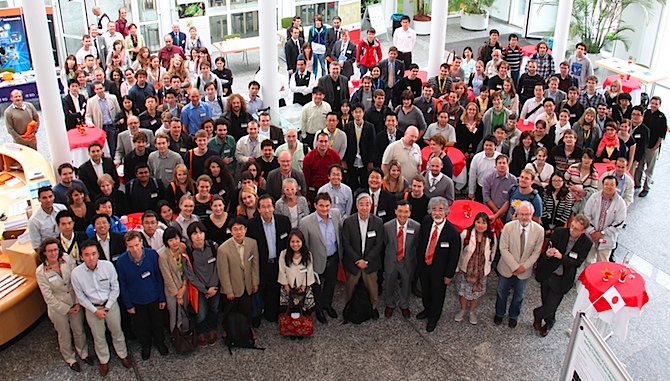 Group photo of all of the symposium participants