iCeMS Kengaku Lab Seminar: Dr Andrea Ravasio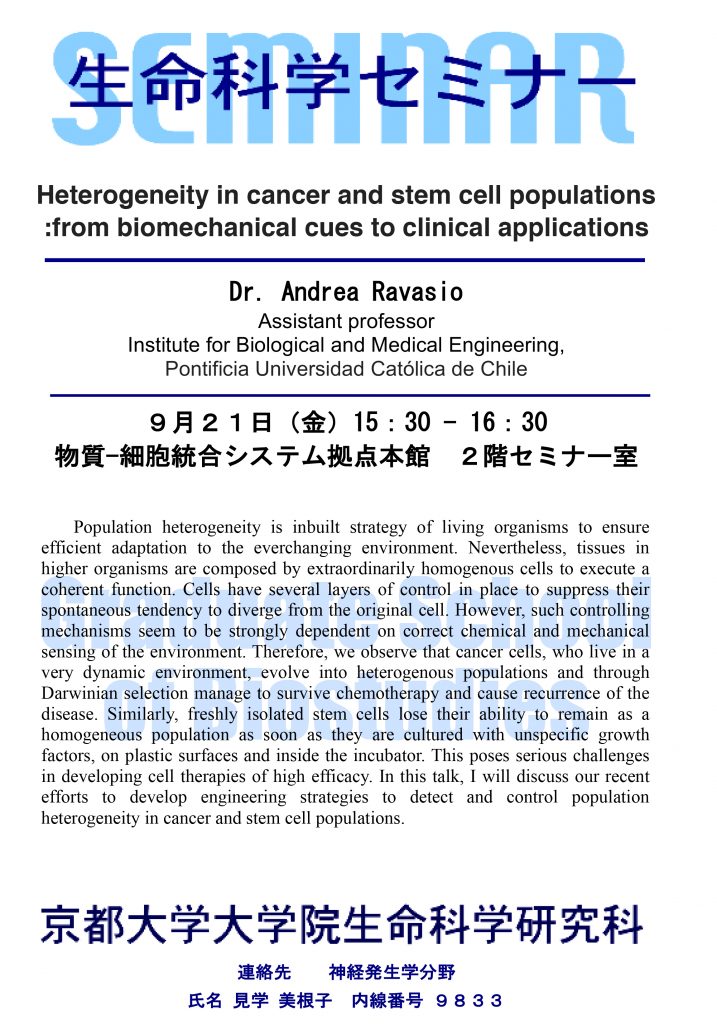 This notice is to inform you of an upcoming seminar, all researchers are welcomed to attend. No registration is required.

Dr Andrea Ravasio
Assistant professor, Institute for Biological and Medical Engineering, Pontificia Universidad Catolica de Chile

Heterogeneity in cancer and stem cell populations : from biomechanical cues to clinical applications
Population heterogeneity is inbuilt strategy of living organisms to ensure efficient adaptation to the everchanging environment. Nevertheless, tissues in higher organisms are composed by extraordinarily homogenous cells to execute a coherent function. Cells have several layers of control in place to suppress their spontaneous tendency to diverge from the original cell. However, such controlling mechanisms seem to be strongly dependent on correct chemical and mechanical sensing of the environment. Therefore, we observe that cancer cells, who live in a very dynamic environment, evolve into heterogenous populations and through Darwinian selection manage to survive chemotherapy and cause recurrence of the disease. Similarly, freshly isolated stem cells lose their ability to remain as a homogeneous population as soon as they are cultured with unspecific growth factors, on plastic surfaces and inside the incubator. This poses serious challenges in developing cell therapies of high efficacy. In this talk, I will discuss our recent efforts to develop engineering strategies to detect and control population heterogeneity in cancer and stem cell populations.
Date/Time

Friday, September 21, 2018, 15:30-16:30
Venue

2nd floor Seminar Room (#A207), iCeMS Main Building (#77), Kyoto University
Access map
Registration

Not required
Language

English
Host and contact

Kengaku Lab, Institute for Integrated Cell-Material Sciences (iCeMS), Kyoto University Institute for Advanced Study kengaku-g [at] icems.kyoto-u.ac.jp