iCeMS Sugimura Lab Seminar: Dr. Hiroyuki Nakajima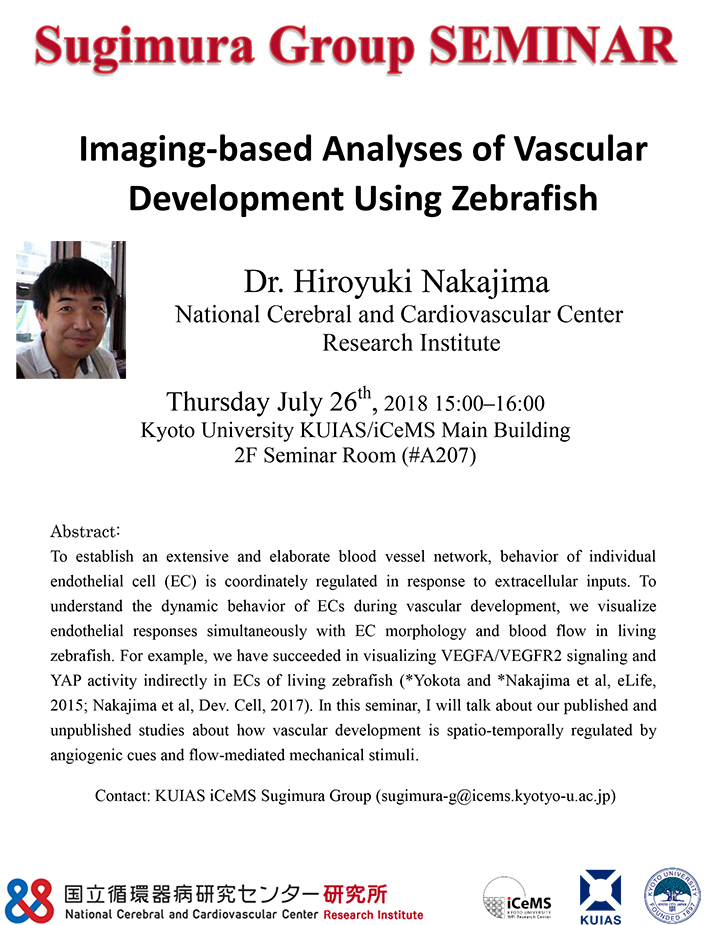 This notice is to inform you of an upcoming seminar, all researchers are welcomed to attend. No registration is required.

Dr. Hiroyuki Nakajima
National Cerebral and Cardiovascular Center

Imaging-based Analyses of Vascular Development Using Zebrafish
To establish an extensive and elaborate blood vessel network, behavior of individual endothelial cell (EC) is coordinately regulated in response to extracellular inputs. To understand the dynamic behavior of ECs during vascular development, we visualize endothelial responses simultaneously with EC morphology and blood flow in living zebrafish. For example, we have succeeded in visualizing VEGFA/VEGFR2 signaling and YAP activity indirectly in ECs of living zebrafish (*Yokota and *Nakajima et al, eLife, 2015; Nakajima et al, Dev. Cell, 2017). In this seminar, I will talk about our published and unpublished studies about how vascular development is spatio-temporally regulated by angiogenic cues and flow-mediated mechanical stimuli.
Date/Time

Thursday, July 26, 2018, 15:00-16:00
Venue

2nd floor Seminar Room (#A207), iCeMS Main Building (#77), Kyoto University Directions
Registration

Not required
Language

English
Host and contact

Kaoru Sugimura Lab, Institute for Integrated Cell-Material Sciences (iCeMS), Kyoto University Institute for Advanced Study
sugimura-g [at] icems.kyoto-u.ac.jp