iCeMS Furukawa Lab Seminar: Mr Simon Krause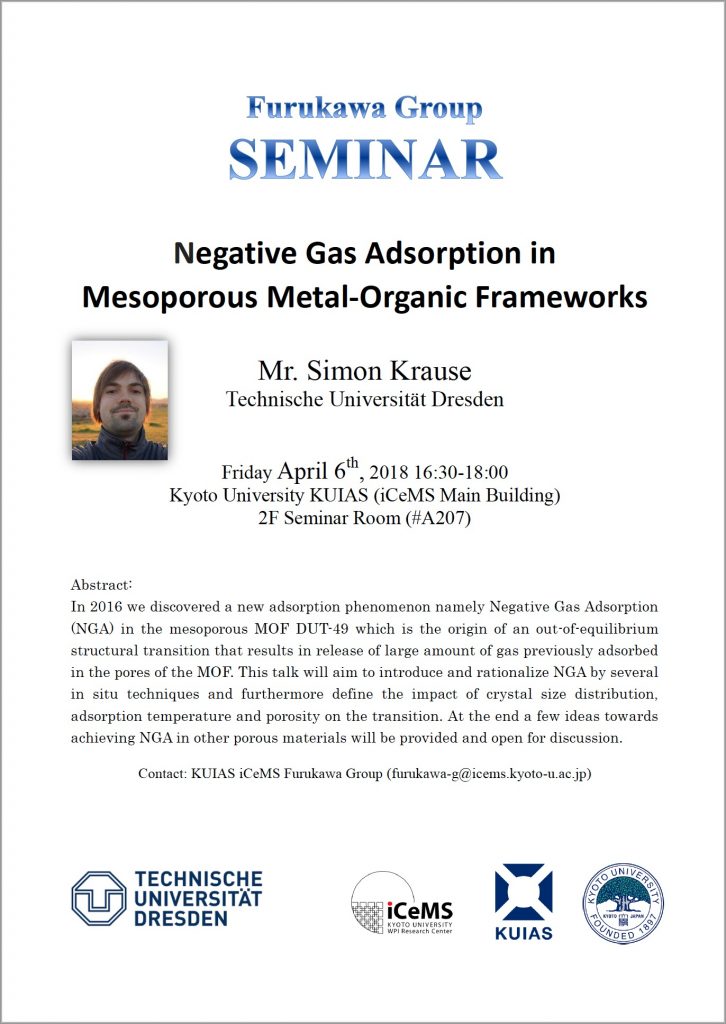 This notice is to inform you of an upcoming seminar, all researchers are welcomed to attend. No registration is required.

Mr. Simon Krause
Technische Universität Dresden

Negative Gas Adsorption in Mesoporous Metal-Organic Frameworks
In 2016 we discovered a new adsorption phenomenon namely Negative Gas Adsorption (NGA) in the mesoporous MOF DUT-49 which is the origin of an out-of-equilibrium structural transition that results in release of large amount of gas previously adsorbed in the pores of the MOF. This talk will aim to introduce and rationalize NGA by several in situ techniques and furthermore define the impact of crystal size distribution, adsorption temperature and porosity on the transition. At the end a few ideas towards achieving NGA in other porous materials will be provided and open for discussion.
Date/Time

Friday, April 6, 2018, 16:30-18:00
Venue

2nd floor Seminar Room (#A207), iCeMS Main Building (#77), Kyoto University Directions
Registration

Not required
Language

English
Host and contact

Shuhei Furukawa Lab, Institute for Integrated Cell-Material Sciences (iCeMS), Kyoto University Institute for Advanced Study
furukawa-g [at] icems.kyoto-u.ac.jp