212th iCeMS Seminar: Prof Dino Di Carlo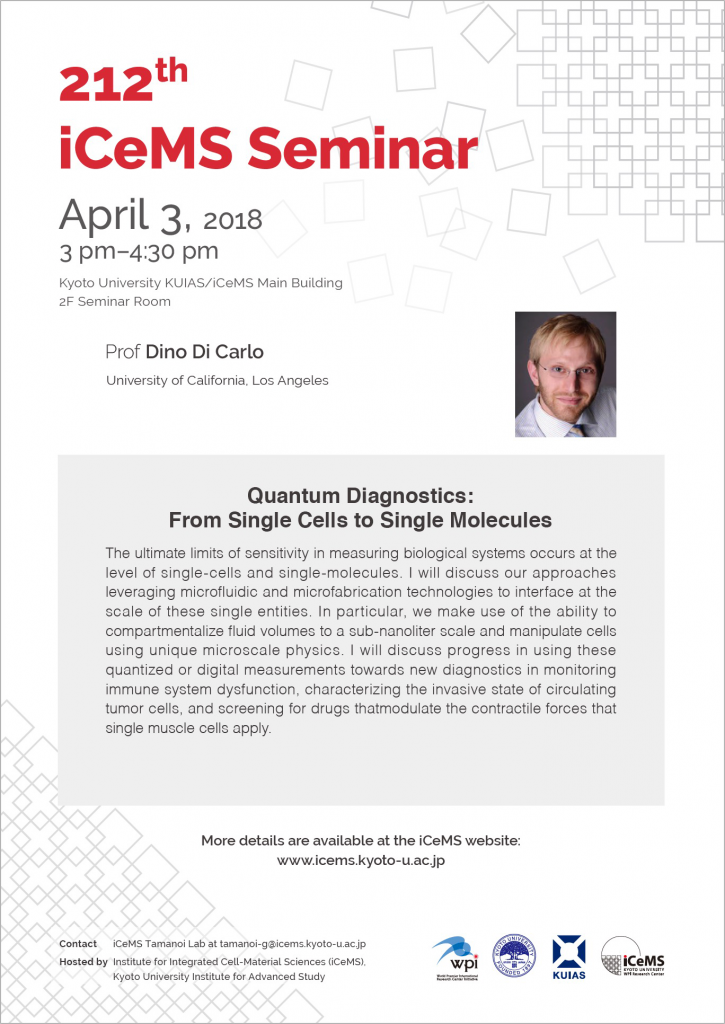 Prof Dino Di Carlo
University of California, Los Angeles

Quantum Diagnostics: From Single Cells to Single Molecules
The ultimate limits of sensitivity in measuring biological systems occurs at the level of single-cells and single-molecules. I will discuss our approaches leveraging microfluidic and microfabrication technologies to interface at the scale of these single entities. In particular, we make use of the ability to compartmentalize fluid volumes to a sub-nanoliter scale and manipulate cells using unique microscale physics. I will discuss progress in using these quantized or digital measurements towards new diagnostics in monitoring immune system dysfunction, characterizing the invasive state of circulating tumor cells, and screening for drugs that modulate the contractile forces that single muscle cells apply.
Date/Time

April 3, 2018 / 15:00–16:30
Venue

Kyoto University KUIAS/iCeMS Main Building 2F Seminar Room (A207)
Map
Admission

Free
Registration

Not required
Language

English
Host

Institute for Integrated Cell-Material Sciences (iCeMS), Kyoto University Institute for Advanced Study
Contact

iCeMS Fuyuhiko Tamanoi Lab
tamanoi-g [at] icems.kyoto-u.ac.jp