iCeMS Suzuki Lab Seminar: Dr Satoshi Toda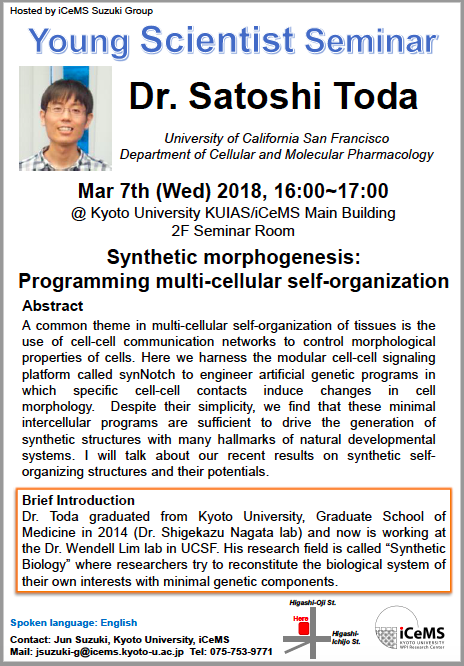 This notice is to inform you of an upcoming seminar, all researchers are welcomed to attend. No registration is required.

Dr Satoshi Toda
University of California San Francisco
Department of Cellular and Molecular Pharmacology

Synthetic morphogenesis: Programming multi-cellular self-organization
A common theme in multi-cellular self-organization of tissues is the use of cell-cell communication networks to control morphological properties of cells. Here we harness the modular cell-cell signaling platform called synNotch to engineer artificial genetic programs in which specific cell-cell contacts induce changes in cell morphology. Despite their simplicity, we find that these minimal intercellular programs are sufficient to drive the generation of synthetic structures with many hallmarks of natural developmental systems. I will talk about our recent results on synthetic self-organizing structures and their potentials.
Date/Time

Wednesday, March 7, 2018, 16:00-17:00
Venue

2nd floor Seminar Room (#A207), iCeMS Main Building (#77), Kyoto University Directions
Registration

Not required
Language

English
Host and contact

Jun Suzuki Lab, Institute for Integrated Cell-Material Sciences (iCeMS), Kyoto University Institute for Advanced Study
jsuzuki-g [at] icems.kyoto-u.ac.jp