iCeMS Furukawa Lab Seminar: Prof Christian Doonan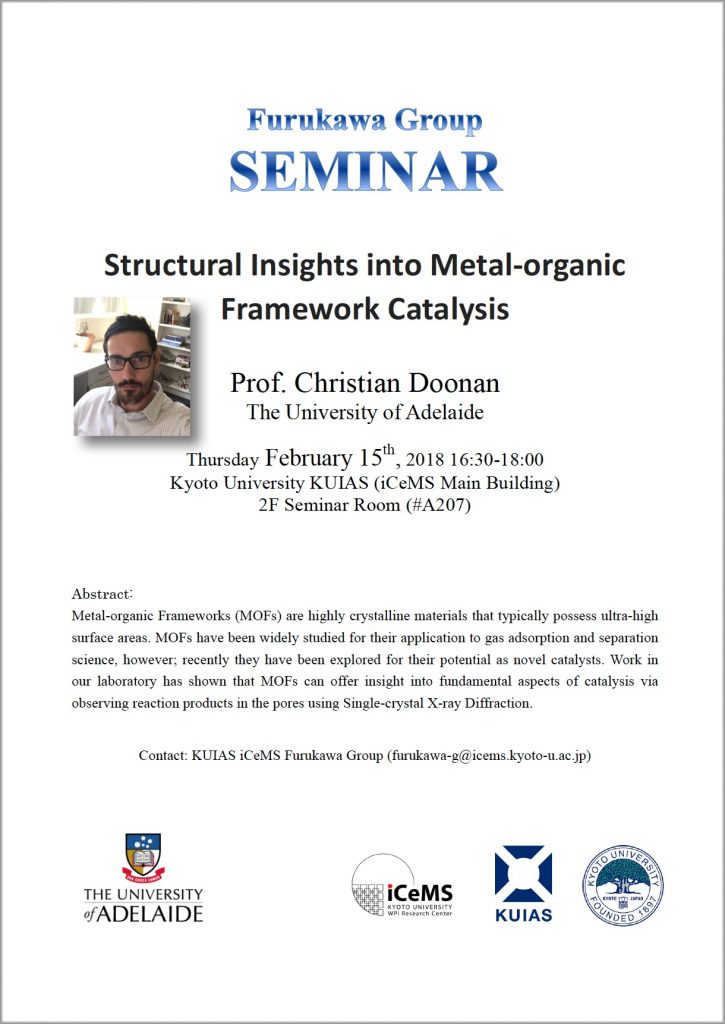 This notice is to inform you of an upcoming seminar, all researchers are welcomed to attend. No registration is required.

The University of Adelaide

Structural Insights into Metal-organic Framework Catalysis
Metal-organic Frameworks (MOFs) are highly crystalline materials that typically possess ultra-high surface areas. MOFs have been widely studied for their application to gas adsorption and separation science, however; recently they have been explored for their potential as novel catalysts. Work in our laboratory has shown that MOFs can offer insight into fundamental aspects of catalysis via observing reaction products in the pores using Single-crystal X-ray Diffraction.
Date/Time

Thursday, February 15, 2018, 16:30-18:00
Venue

2nd floor Seminar Room (#A207), iCeMS Main Building (#77), Kyoto University Directions
Registration

Not required
Language

English
Host and contact

Shuhei Furukawa Lab, Institute for Integrated Cell-Material Sciences (iCeMS), Kyoto University Institute for Advanced Study
furukawa-g [at] icems.kyoto-u.ac.jp