211th iCeMS Seminar: Dr Koichiro Uto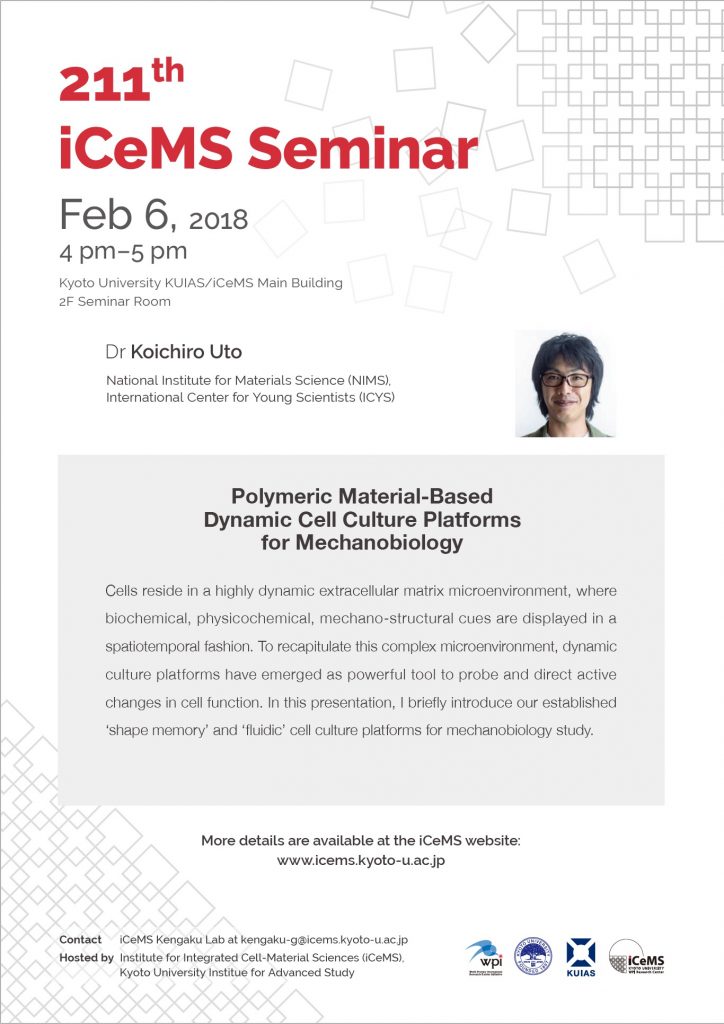 Dr Koichiro Uto
National Institute for Materials Science (NIMS)
International Center for Young Scientists (ICYS)

Polymeric Material-Based Dynamic Cell Culture Platforms for Mechanobiology
Cells reside in a highly dynamic extracellular matrix microenvironment, where biochemical, physicochemical, mechano-structural cues are displayed in a spatiotemporal fashion. To recapitulate this complex microenvironment, dynamic culture platforms have emerged as powerful tool to probe and direct active changes in cell function. In this presentation, I briefly introduce our established 'shape memory' and 'fluidic' cell culture platforms for mechanobiology study.
Date/Time

Feb 6, 2018 / 16:00–17:00
Venue

Kyoto University KUIAS/iCeMS Main Building 2F Seminar Room (A207)
Map
Admission

Free
Registration

Not required
Language

English
Host

Institute for Integrated Cell-Material Sciences (iCeMS), Kyoto University Institute for Advanced Study
Contact

iCeMS Kengaku Lab
kengaku-g [at] icems.kyoto-u.ac.jp