iCeMS Furukawa Lab Seminar: Dr Josep Puigmarti-Luis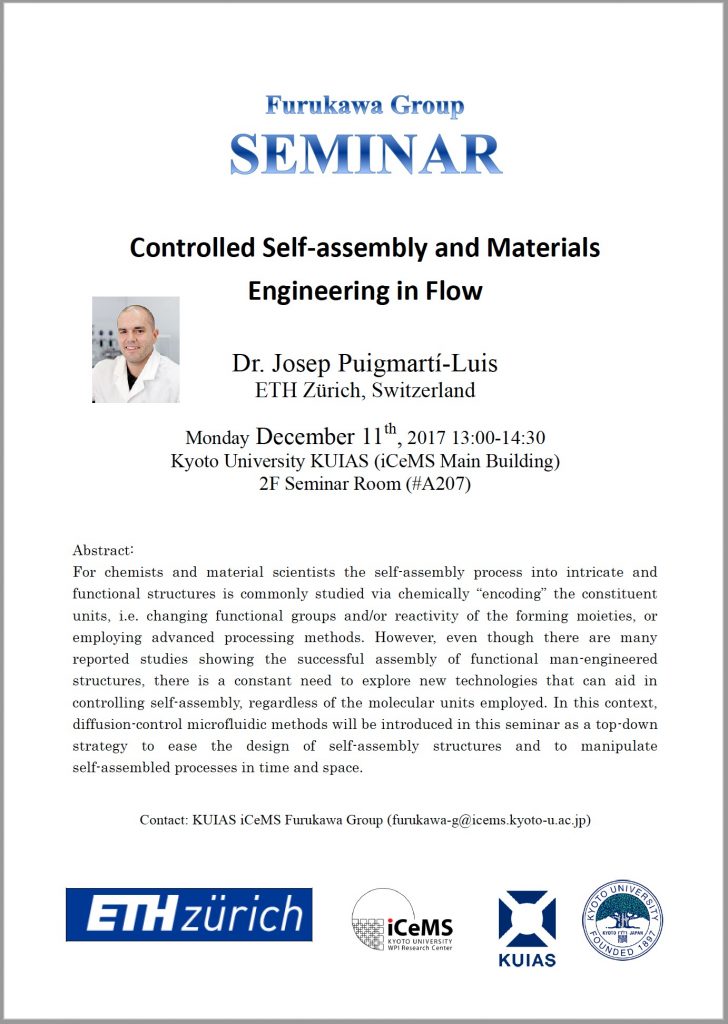 This notice is to inform you of an upcoming seminar, all researchers are welcomed to attend. No registration is required.

Dr Josep Puigmarti-Luis
ETH Zürich, Switzerland

Controlled Self-assembly and Materials Engineering in Flow
For chemists and material scientists the self-assembly process into intricate and functional structures is commonly studied via chemically "encoding" the constituent units, ie changing functional groups and/or reactivity of the forming moieties, or employing advanced processing methods. However, even though there are many reported studies showing the successful assembly of functional man-engineered structures, there is a constant need to explore new technologies that can aid in controlling self-assembly, regardless of the molecular units employed. In this context, diffusion-control microfluidic methods will be introduced in this seminar as a top-down strategy to ease the design of self-assembly structures and to manipulate self-assembled processes in time and space.
Date/Time

Monday, December 11, 2017, 13:00-14:30
Venue

2nd floor Seminar Room (#A207), iCeMS Main Building (#77), Kyoto University Directions
Registration

Not required
Language

English
Host and contact

Shuhei Furukawa Lab, Institute for Integrated Cell-Material Sciences (iCeMS), Kyoto University Institute for Advanced Study
furukawa-g [at] icems.kyoto-u.ac.jp