iCeMS Chen Lab and Dept. of Micro Engineering Seminar: Dr Stanislav L Karsten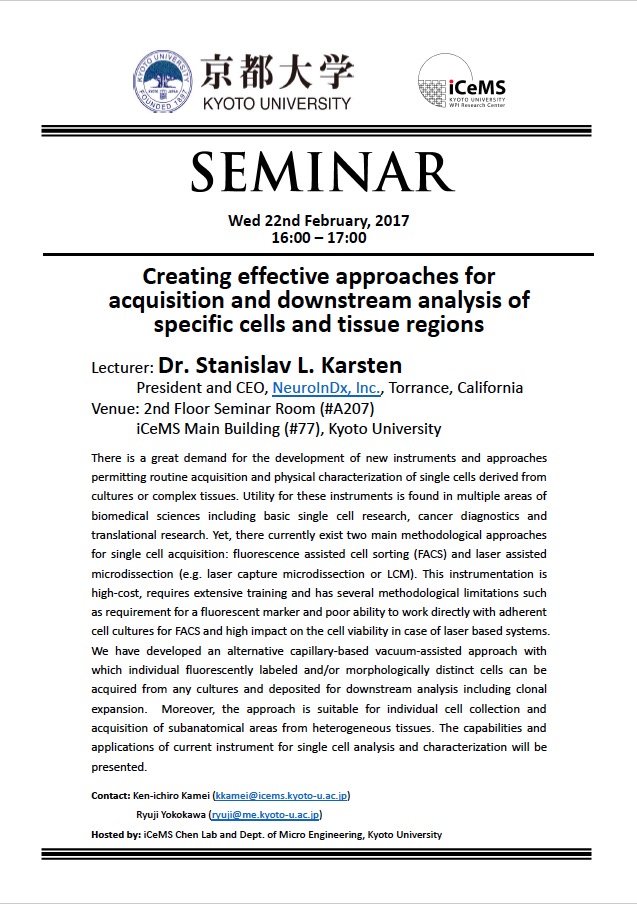 Creating effective approaches for acquisition and downstream analysis of specific cells and tissue regions
There is a great demand for the development of new instruments and approaches permitting routine acquisition and physical characterization of single cells derived from cultures or complex tissues. Utility for these instruments is found in multiple areas of biomedical sciences including basic single cell research, cancer diagnostics and translational research. Yet, there currently exist two main methodological approaches for single cell acquisition: fluorescence assisted cell sorting (FACS) and laser assisted microdissection (e.g. laser capture microdissection or LCM). This instrumentation is high-cost, requires extensive training and has several methodological limitations such as requirement for a fluorescent marker and poor ability to work directly with adherent cell cultures for FACS and high impact on the cell viability in case of laser based systems. We have developed an alternative capillary-based vacuum-assisted approach with which individual fluorescently labeled and/or morphologically distinct cells can be acquired from any cultures and deposited for downstream analysis including clonal expansion. Moreover, the approach is suitable for individual cell collection and acquisition of subanatomical areas from heterogeneous tissues. The capabilities and applications of current instrument for single cell analysis and characterization will be presented.

Lecturer

Dr Stanislav L Karsten (President and CEO, NeuroInDx, Inc. , Torrance, California)
Title

Creating effective approaches for acquisition and downstream analysis of specific cells and tissue regions
Date / Time

February 22, 2017 / 16:00-17:00
Venue

2nd floor Seminar Room (#A207), iCeMS Main Building (#77), Kyoto University
Directions
Contact

Ken-ichiro Kamei | kkamei [at] icems.kyoto-u.ac.jp
Ryuji Yokokawa | ryuji [at] me.kyoto-u.ac.jp