216th iCeMS Seminar : Prof Tzu-Ching Meng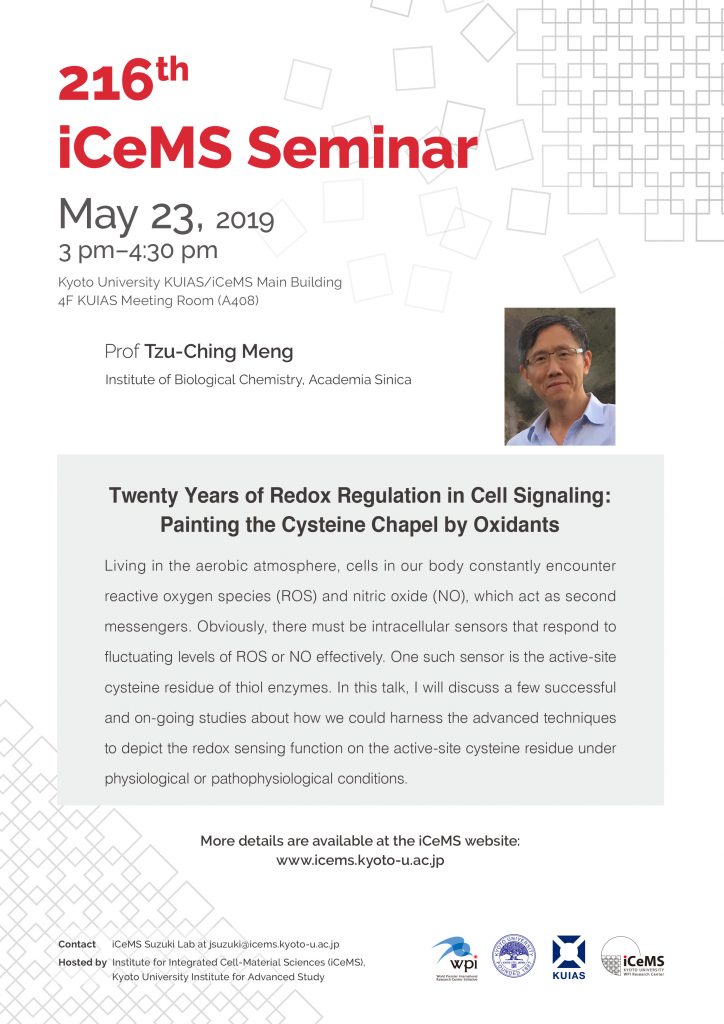 Prof Tzu-Ching Meng
Institute of Biological Chemistry, Academia Sinica

Twenty Years of Redox Regulation in Cell Signaling: Painting the Cysteine Chapel by Oxidants
Living in the aerobic atmosphere, cells in our body constantly encounter reactive oxygen species (ROS) and nitric oxide (NO), which act as second messengers. Obviously, there must be intracellular sensors that respond to fluctuating levels of ROS or NO effectively. One such sensor is the active-site cysteine residue of thiol enzymes. In this talk, I will discuss a few successful and on-going studies about how we could harness the advanced techniques to depict the redox sensing function on the active-site cysteine residue under physiological or pathophysiological conditions.
Date/Time

May 23, 2019/ 15:00–16:30
Venue

Kyoto University KUIAS/iCeMS Main Building 4F KUIAS Meeting Room (A408)
Map
Admission

Free
Registration

Not required
Language

English
Host

Institute for Integrated Cell-Material Sciences (iCeMS), Kyoto University Institute for Advanced Study
Contact

iCeMS Jun Suzuki Lab : jsuzuki [at] icems.kyoto-u.ac.jp