iCeMS Furukawa Lab Seminar: Dr Arnau Carné Sánchez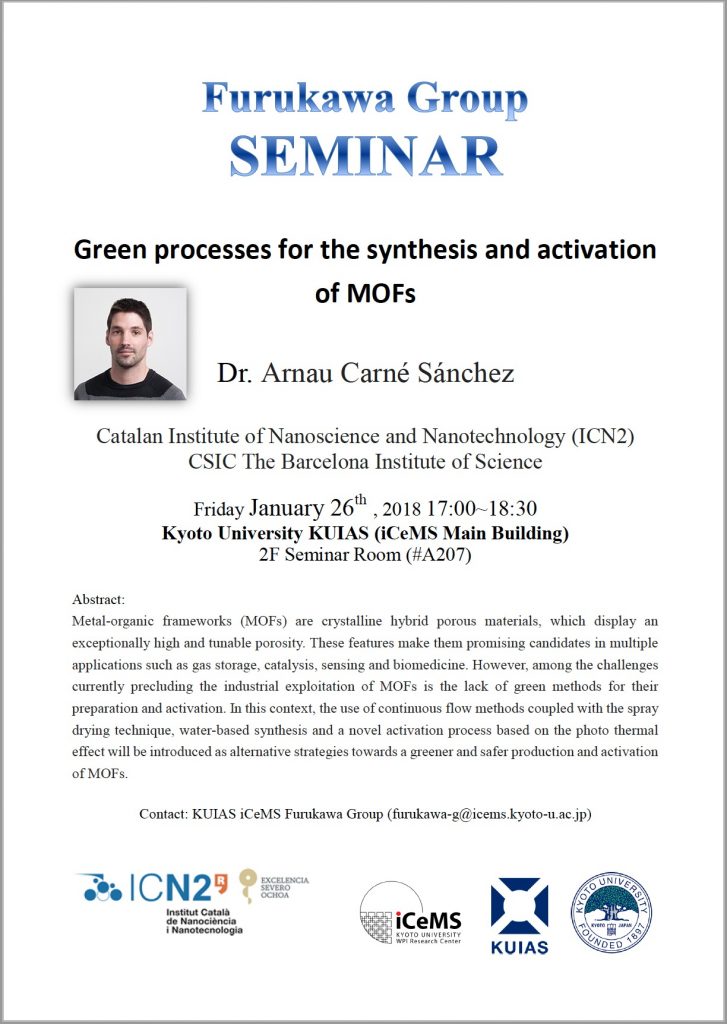 This notice is to inform you of an upcoming seminar, all researchers are welcomed to attend. No registration is required.

Dr Arnau Carné Sánchez
Catalan Institute of Nanoscience and Nanotechnology (ICN2)
CSIC The Barcelona Institute of Science

Green processes for the synthesis and activation of MOFs
Metal-organic frameworks (MOFs) are crystalline hybrid porous materials, which display an exceptionally high and tunable porosity. These features make them promising candidates in multiple applications such as gas storage, catalysis, sensing and biomedicine. However, among the challenges currently precluding the industrial exploitation of MOFs is the lack of green methods for their preparation and activation. In this context, the use of continuous flow methods coupled with the spray drying technique, water-based synthesis and a novel activation process based on the photo thermal effect will be introduced as alternative strategies towards a greener and safer production and activation of MOFs.
Date/Time

Friday, January 26, 2018, 17:00-18:30
Venue

2nd floor Seminar Room (#A207), iCeMS Main Building (#77), Kyoto University Directions
Registration

Not required
Language

English
Host and contact

Shuhei Furukawa Lab, Institute for Integrated Cell-Material Sciences (iCeMS), Kyoto University Institute for Advanced Study
furukawa-g [at] icems.kyoto-u.ac.jp