Delegation from Indian Embassy visits iCeMS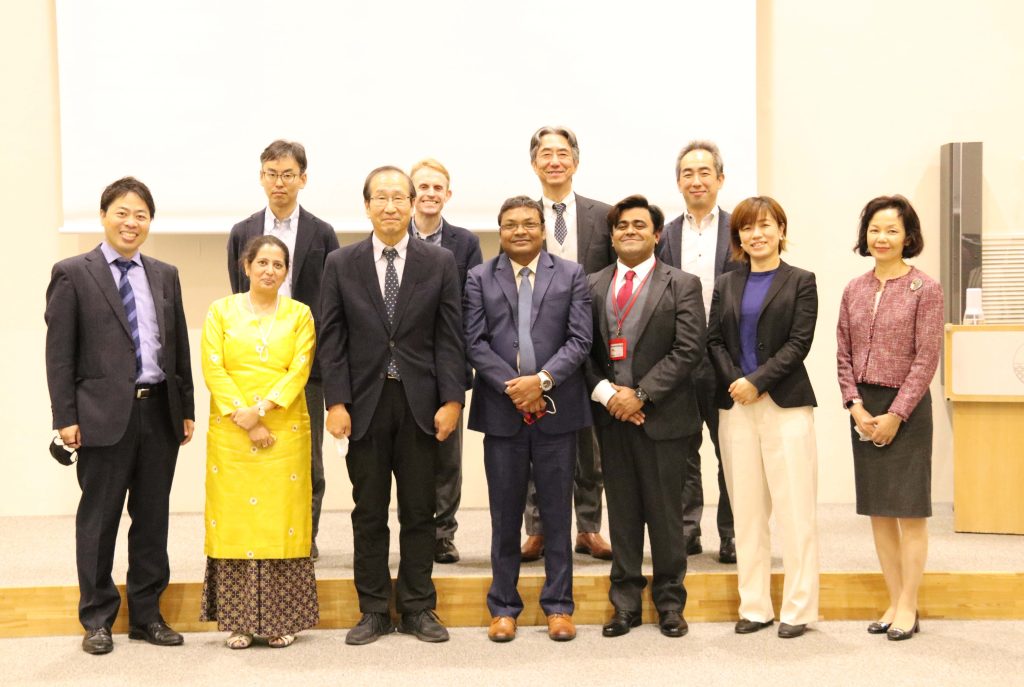 On October 28, a delegation from the Indian Embassy joined by Mr Nikhilesh Giri, Consul General of the Consulate General of India, Osaka-Kobe, and Dr Usha Dixit, Counsellor (Science & Technology) of the Embassy of India, Tokyo, made a courtesy visit to iCeMS and discussed possibilities of academic cooperation. The event was moderated by Dr Ganesh Pandian Namasivayam from iCeMS.

Director Kitagawa introduced iCeMS and presented the materials science side of the institute. Focusing on the future of gas and liquids and their growing importance in energy, environment conservation, and healthcare, Kitagawa highlighted the PCP/MOF materials being researched at iCeMS and their potential uses for separation, storage, and conversion.

Dr Satoshi Horike followed up with his recently published research showing how carbon dioxide can be captured into the structure of functional solid materials. The creation of this MOF can be done at 25°C at 1atm and from gas with very low concentrations of CO2, opening a new pathway in CO2 storage.

Dr Ken-ichiro Kamei showed off the innovative "Body on a Chip" technology which can be used to model living organs and diseases. The technology, which combines differentiated tissues connected through a microfluidic circulatory system, could be used for drug screening and new drug discovery through toxicology testing and disease modeling.

Namasivayam, who has worked to deepen the connections between India and Japan throughout the pandemic, presented his work on targeted genetic switches. His current focus is on the development of molecules which can enter a cell's mitochondria and selectively switch on or off a desired gene.

After the presentations, Giri reflected on the fascinating day the delegation had enjoyed at Kyoto University, meeting and talking with professors in various departments. He remarked his impressions of Kyoto University and other Japanese universities, that he was fascinated with two things, the quality of labs and interdisciplinary research, and also the extent of cooperation with partner institutions in India. Dixit expressed great interest in the overlap of many topics of research, especially the potentials in carbon capture technology.

Prof Mineko Kengaku, Prof Aiko Fukuzawa, Dr Daniel Packwood, Prof Jun Suzuki, and Prof Kazumitsu Ueda spoke briefly about their work at iCeMS.
After the meeting, the enthusiastic delegation, which was joined by Mr Sanjeev Jain, Consul (Commercial) and Head of Chancery of the Consulate General of India, Osaka-Kobe, rounded out their trip with a tour of the iCeMS research facilities led by Dr Takayuki Homma.