[Mar 24] iCeMS-ASHBi Exchange Gathering
With the aim to enhance collaboration research between two WPI centers in Kyoto University and to encourage lively interact among young researchers, WPI-ASHBi will hold an Exchange Gathering with WPI-iCeMS on March 24th.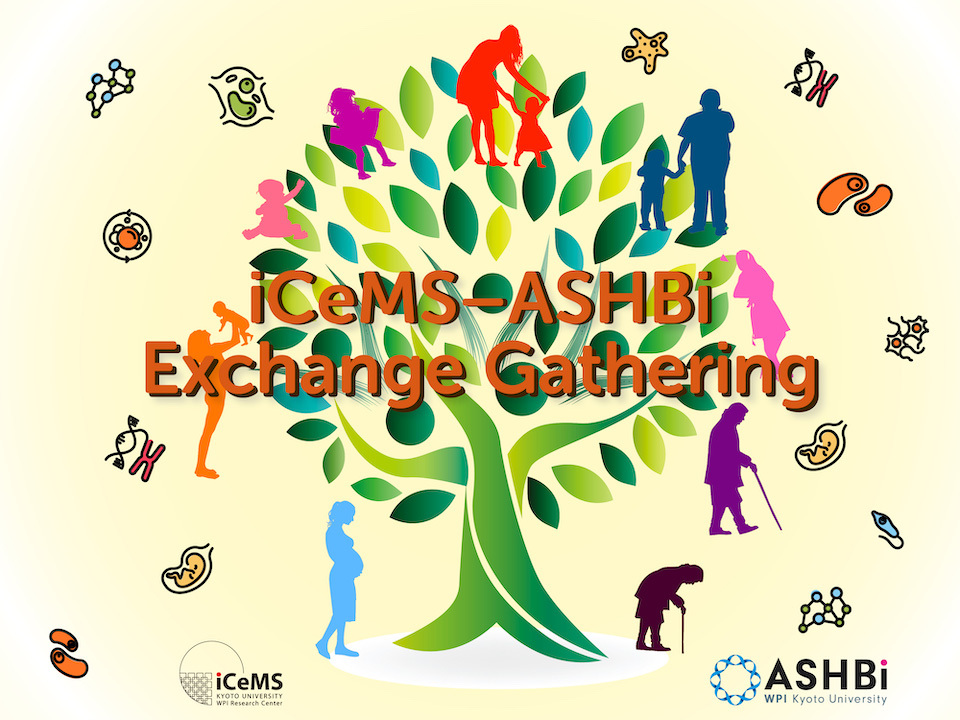 Date/Time

Thursday, March 24, 2022 / 9:00–16:00 (JST)
Venue

Onsite + online hybrid
[NOTE] Onsite participants are limited to presenters only.
[NOTE] Highspeed LAN/WiFi environment advised for stability
Language

English
Participants

This event is only open for iCeMS and ASHBi members.
Registration

Required (iCeMS/ASHBi members please register via the registration form at the URL provided through the internal announcement.)
Hosts

Institute for Integrated Cell-Material Sciences (iCeMS)
Institute for the Advanced Study of Human Biology (ASHBi)
Schedule
9:00

Opening Remarks: Ryo Yamamoto (ASHBi) Greeting from KUIAS Director-General: Shigefumi Mori (KUIAS) Greeting from WPI Program Director: Akira Ukawa (WPI)
9:10

Greeting from iCeMS Director: Susumu Kitagawa (iCeMS)
9:20

Greeting from ASHBi Director: Mitinori Saitou (ASHBi)
9:30

Sungrim Seirin-Lee (Seirin Group, ASHBi)
10:00

Masahiro Maruoka (Suzuki Lab, iCeMS)
10:30

Break
10:45

Takafumi Ichikawa (Hiiragi Group, ASHBi)
11:15

Flash talk 1 Kitagawa G (i)-Amemori G (A)-Kengaku G (i)-Alev G (A)-Suzuki G (i)-Eiraku G (A)-Furukawa G (i)-Ema G (A)-Tamanoi G (i)-Fujita G (A)-Hiraoka G (A)-Isa G (A)-Murakawa G (A)

(i): iCeMS, (A): ASHBi
12:15

Lunch break
13:15

Andrew Gibbons (Sivaniah Lab, iCeMS)
13:45

Fumitaka Inoue (Bourque Group, ASHBi)
14:15

Break
14:30

Tomoko Inose (Furukawa Lab, iCeMS)
15:00

Flash talk 2
Ogawa G (A)-Taniguchi G (i)- Saitou G (A)-Ueda G (i)-Tsukiyama G (A)-Horike G (i)-Ueno G (A)-Packwood G (i)-R. Yamamoto G (A)-Kamei G (i)-T. Yamamoto G (A)-Namasivayam G (i)-Yanagita G (A)

(i): iCeMS, (A): ASHBi
16:00

Closing Remarks: Kenichiro Kamei (iCeMS)
In order to prevent the spread of infection, please follow the instructions below when you attend a seminar.
Make sure that you wear a mask, and that you wear it properly.
Please disinfect your hands when entering the building.
(For participants from other departments or outside of Kyoto University) Please fill out the entry record at the entrance of the building.
[Attention]
If you have cold-like symptoms, fever, or any other COVID-19-like symptoms on the day of the visit, please refrain from participating at the meeting on-site.You may participate online by contacting the iCeMS Communication Design Unit (cd [at] mail2.adm.kyoto-u.ac.jp).
Due to unforeseeable reasons, the seminar may be changed to a 100% online event at short notice. In that case, we will contact you at the e-mail address you have registered.