[June 2] Kitagawa Lab Seminar: Dr Christian Serre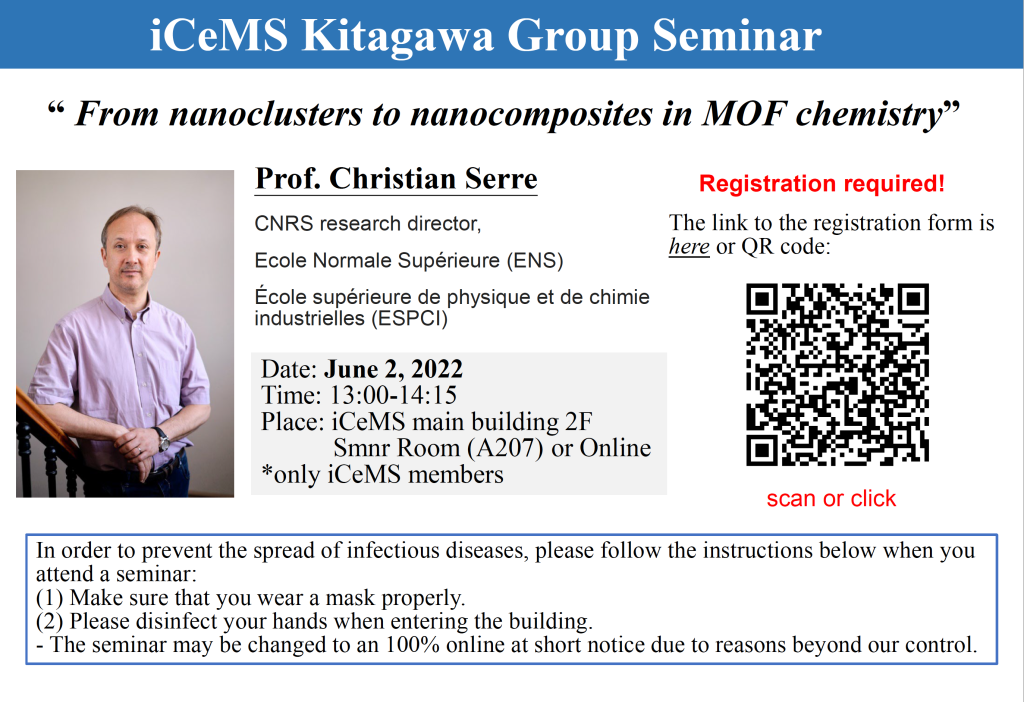 Kitagawa Lab is to hold a seminar. iCeMS members are welcome to attend.

This seminar will be held in person at the iCeMS main building.
Please register via the google form (through QR code in the flyer below).

Assoc Prof Christian Serre
CNRS research director,
Ecole Normale Supérieure(ENS)
École supérieure de physique et de chimie industrielles (ESPCI)

- From nanoclusters to nanocomposites in MOF chemistry -

Date/Time

Thursday, June 2, 2022 / 13:00-14:15
Venue

In person: 2nd floor Seminar Room (#A207), iCeMS Main Building
Online: Zoom
Registration

Required (QR code in the flyer)
Language

English
Host and contact

iCeMS Kitagawa Group
E-mail: kitagawa-g [at] icems.kyoto-u.ac.jp
In order to prevent the spread of infection, please follow the instructions below when you attend a seminar.
(1) Make sure that you wear a mask, and that you wear it properly.
(2) Please disinfect your hands when entering the building.
(3) (for participants from other departments or outside of Kyoto University)
Please fill out the entry record at the entrance of the building.

[Attention]
- If you have cold-like symptoms, fever, or any other COVID-19-like symptoms on the day of the visit, please refrain from participating at the meeting on-site.
You may participate online by contacting us at the address above.
- Due to unforeseeable reasons, the seminar may be changed to a 100% online event at short notice. In that case, we will contact you at the e-mail address you have registered.