[Oct 19] 218th iCeMS Seminar : Prof Christine Luscombe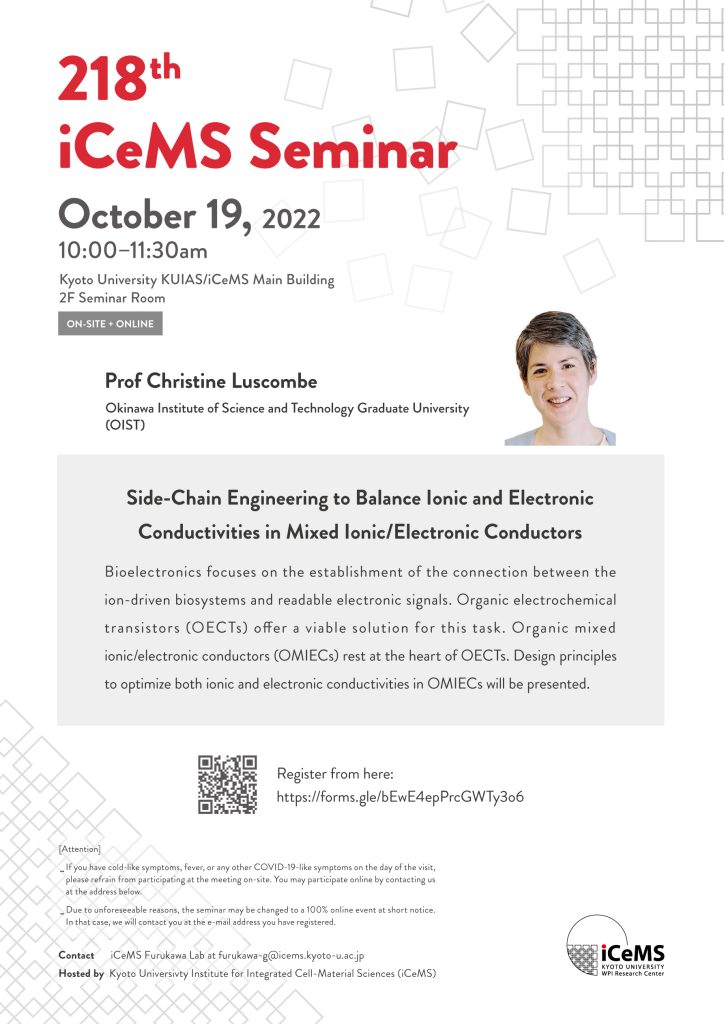 Prof Christine Luscombe
Okinawa Institute of Science and Technology Graduate University (OIST)


Side-Chain Engineering to Balance Ionic and Electronic Conductivities in Mixed Ionic/Electronic Conductors
Bioelectronics focuses on the establishment of the connection between the ion-driven biosystems and readable electronic signals. Organic electrochemical transistors (OECTs) offer a viable solution for this task. Organic mixed ionic/electronic conductors (OMIECs) rest at the heart of OECTs. Design principles to optimize both ionic and electronic conductivities in OMIECs will be presented.
Date/Time

Wednesday, October 19, 2022
Venue

In person: 2nd floor Seminar Room (#A207), iCeMS Main Building
Online: Zoom
Admission

Free
Registration

Required ( Register from here)
Language

English
Host

Kyoto University Institute for Integrated Cell-Material Sciences (iCeMS)
Contact

iCeMS Furukawa Lab:furukawa-g [at] icems.kyoto-u.ac.jp
In order to prevent the spread of infection, please follow the instructions below when you attend a seminar.
(1) Make sure that you wear a mask, and that you wear it properly.
(2) Please disinfect your hands when entering the building.
(3) (for participants from other departments or outside of Kyoto University)
Please fill out the entry record at the entrance of the building.

[Attention]
- If you have cold-like symptoms, fever, or any other COVID-19-like symptoms on the day of the visit, please refrain from participating at the meeting on-site.
You may participate online by contacting us at the address above.
- Due to unforeseeable reasons, the seminar may be changed to a 100% online event at short notice. In that case, we will contact you at the e-mail address you have registered.