iCeMS and Shenyang Pharma co-host forum on biomedical research & innovation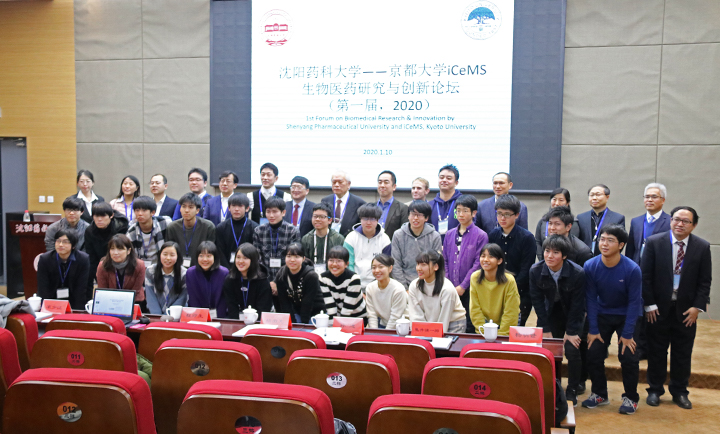 On January 10, iCeMS and Shenyang Pharmaceutical University together held the "First Forum on Biomedical Research and Innovation by iCeMS, Kyoto University and Shenyang Pharmaceutical University"
The event gathered many students and researchers of Shenyang Pharma, and also 20 high school students from Japan attended the symposium to present posters on their scientific research.
The symposium started with the remarks by the Shenyang Pharma's Vice Principal Prof Sun Yong He, and then the iCeMS Research Administrative Director Prof Mitsuru Hashida talked about iCeMS and the recent pharmaceutical situations in Japan. Then in the scientific sessions, scientists including iCeMS' Deputy Director Prof Motonari Uesugi, Dr Shuhei Furukawa, Dr Ken-ichiro Kamei, Dr Daniel Packwood, and Dr Yousuke Katsuda delivered presentations on their research.
The Symposium concluded successfully with the remarks by Uesugi and Shenyang Pharma's Prof Jin Sun, the director of the Wuya College of Innovation of the University. Jin commented In his remarks,"Starting from here, I hope the relationship between our university and Kyoto University iCeMS will last long, and hereafter we can globally boost biomedical research together."
Participants were eagerly attentive
Students giving poster presentations