iCeMS Gathers for Opening of Virtual Retreat Series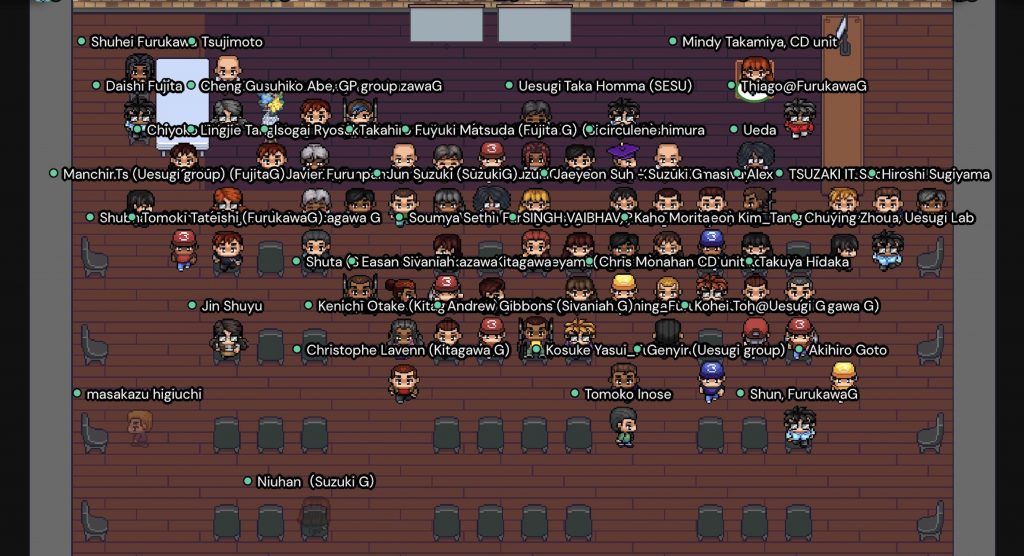 How do you encourage open communication and a strong cooperative atmosphere when our face-to-face communication is limited due to a pandemic?

iCeMS is treating this challenge as an opportunity. Every year iCeMS holds a yearly retreat to break the ice and encourage cross communication between research groups, allowing young researchers to get to know each other and the veteran PI's, as well as the support staff and director. This year, by breaking the retreat into ten monthly sessions which will take place primarily online, iCeMS will be able to both include alumni and our overseas on-site laboratories.

The kick-off of the 10-session series took place on May 21. The introductory session was hosted by Daishi Fujita, who encouraged the younger generation to get involved with the planning of future sessions and make this their event.

Director Susumu Kitagawa prepared a presentation introducing the new entries to the structure and mission of iCeMS, as well as his own inspirations for pursuing chemistry. He reminded participants of the potential "usefulness of the useless." And emphasized his three C's for a successful attitude and mindset. "The Courage to venture into unexplored fields. The spirit to take on new Challenges. And the capacity for Creative thinking."

The Communication Design Unit announced a contest to rename this year's retreat, and they hope to receive many great suggestions. The winning name will be announced soon.

The day's final experiment was a foray into a new virtual meeting space, Gather.town which combines 8-bit RPG graphic world building with video conferencing technology. Aiko Fukazawa painstakingly recreated the iCeMS building with the addition of a beach, for everyone to explore and begin to get to know each other.

Like any experiment, the event had its successes and setbacks, as more than one person got stuck in the virtual elevator. While looking forwards to a time when the situation improves and everyone can meet in person, iCeMS will continue to adapt in order to dissolve boundaries between academic fields and bring diverse perspectives to the same table, even if for now, it's a virtual 8-bit table.