Global Women's Breakfast 2023 "Breaking Barriers in Science"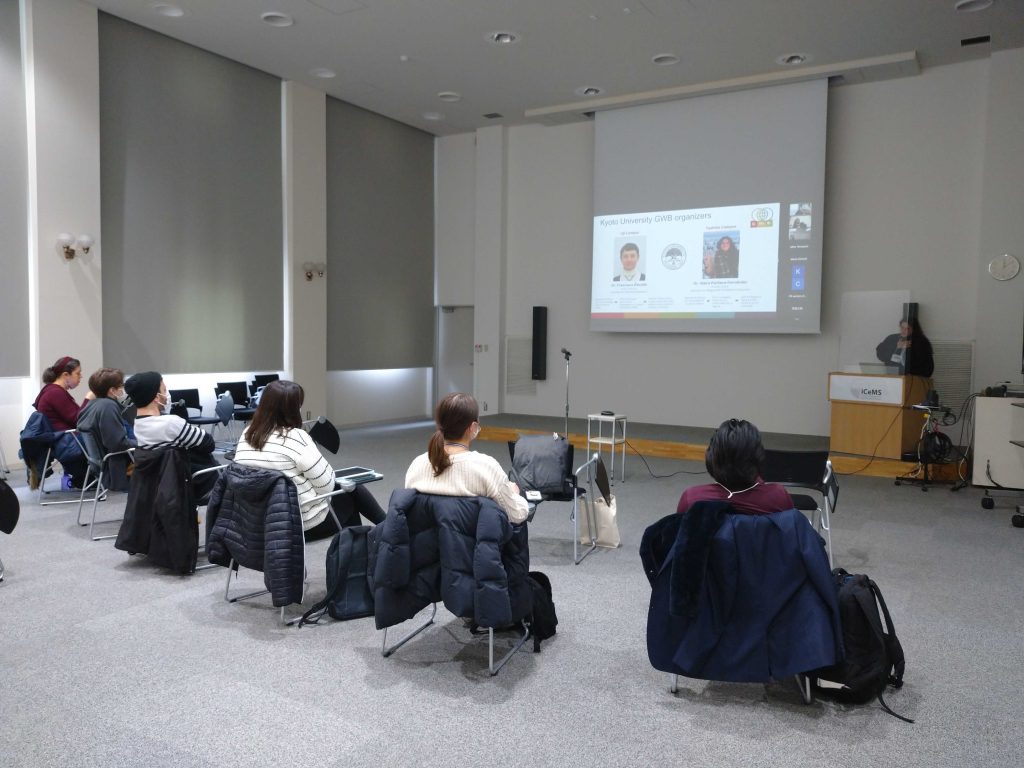 On February 14, IUAPC Global Woman's Breakfast was held in countries all over the world with 391 registered events on their global map. Two of these events were held at Kyoto University, one at the Uji campus and one at iCeMS main building. The sites were linked and joined by online participants and two guest speakers, Prof Maria Giovanna Dainotti (Astronomical Observatory of Japan) and Prof Miho Yamauchi (Kyushu University).

The Kyoto University events were co-organized by Dr Francesca Pincella, Institute of Chemical Research (ICR), and Dr Pacheco-Fernandez, Postdoctoral Fellow (iCeMS Furukawa-Inose Group). The two women introduced themselves, some of the IUPAC goals, impact, and affiliations, and the two guest speakers.

According to the International Union of Pure and Applied Chemistry (IUPAC), "The goal of the GWB series is to establish an active network of people of all genders to overcome the barriers to gender equality in science." IUAPC encouraged groups from all types of science organizations to organize a local event and cater its details to the needs of its participants. They offer a comprehensive guide to help anyone design, organize, and connect an event.

Dianotti and Yamauchi studied in Japan and internationally and spoke about their own experiences in education and research, highlighting some of the differences they encountered here and abroad. Dainotti, who studies gamma ray bursts, addressed her methods of leading diverse working groups made up of students from around the globe. She spoke about educating students about non-discrimination based on gender, orientation, religion, culture, or educational background, with the final goal of bringing consciousness to the importance of diversity and equality and joy to be found by embracing them.

Yamauchi, who focuses on nanoscale materials for catalysis and energy storage for a sustainable future, asked in her talk, "How do we achieve sustainability for women chemists?" She noted that advancement was not based just on one's own efforts but also one's relationship with society. She emphasized the supportive mentoring she received throughout her career.

After the talks, there was a Q&A with the invited guests before breaking out into networking groups.