Structural Coloration
OM technology allows an inkless, large-scale color printing process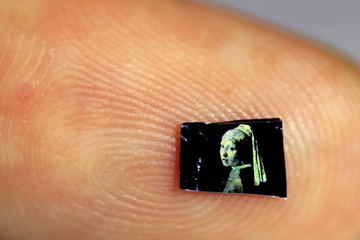 Dr Masateru Ito, Prof Easan Sivaniah and colleagues use a technology called OM (Organized Microfibrillation) that adjusts crazing and precisely form fibrils to develop a material that reflects light of a specific frequency that we recognize as a color through our eyes.
When polymers are under pressure crazing occurs, producing fine fibers called "fibrils". Normally, crazing occurs randomly, such as when plastic products deteriorate. OM technology made it possible to control the crazing and print on flexible and transparent materials with a resolution of up to 14,000 dpi. This is expected to have various applications, such as the development of inkless color printing technology and the prevention of banknote counterfeiting.
A very high resolution painting of approximately 1 mm width can be created without ink.