Reader-Friendly Writing and Intuitive Illustrations
Science Communicator & Illustrator
Assistant Professor at Public Engagement Unit
Izumi Mindy Takamiya
Izumi Mindy Takamiya
To communicate the significance of nanoscale research at iCeMS, complex ideas need to be presented in an easy-to-understand and approachable manner. "Creativity is the key in our public relation (PR) activities," says Mindy Takamiya. Her job is to effectively disseminate information on scientific research at iCeMS. She writes and creates graphic illustrations to reach a wide audience.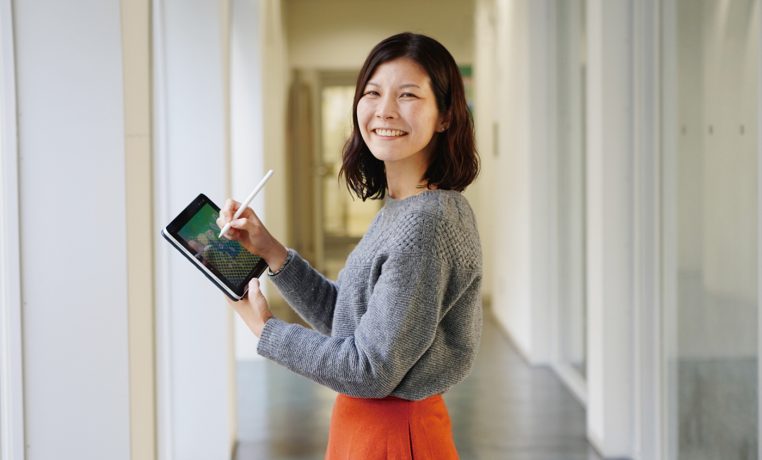 Reader-Friendly Writing and Intuitive Illustrations
As I come from a humanities background, it was challenging for me to understand the world of natural science in the early days of my job as a science communicator. Unfamiliar jargon. Realism-oriented three-dimensional graphics of cells. Expressions common for natural scientists were not only difficult to understand for me—in fact, they were even alienating.
  The target recipients of our messages are not limited to science-savvy people. I wanted to publicize the significance of iCeMS' research and the enthusiasm of its researchers in a manner that effectively speaks to the general audience, including those who are unfamiliar with science. I thought I would be able to express science in a way wider range of people can feel close to it because I knew how it feels to think that "science is not my thing." That is why I started hand-drawing illustrations to make scientific news reader-friendly.
Art Goes On Mission as a "Translator"
My artworks for iCeMS press releases are receiving positive feedbacks, and now my efforts to make visuals to attract a wider audience are gaining momentum. A variety of activities have been started, such as exhibitions of science illustration works and the creation of promotional goods. Moreover, I receive requests to create illustration art for scientific journal cover pages, which is a visual tool to aid academic communication between researchers.
  In the six years working at iCeMS, I have grown my understanding of natural science and widened my range of expression. Still, the passion that I had at the beginning remains the same. Now I understand scientists' words and feelings, and those of the general public too. It is like being bilingual in two different cultures. I have found my calling as a translator who connects science and the rest of society.


Job Description
Mindy creates illustration artworks to express scientific research, and communicates iCeMS' science domestically and internationally in many ways:
Production of advertisement media

PR publications and promotional goods ・Planning brochures and this newsletter series ・Designing clear folder and handkerchief based on scientific research

Website and social media

・Creating or planning visual contents (illustrations, photos, videos, etc.) ・Writing news and following up responses

Press communication

・Preparing press releases (summaries of research results) for domestic and overseas media outlets ・Interacting with journalists

Face-to-face interactions

・Conducting lab tours open to the general public ・Talking to international scientists for future recruitment
Cooperation: Kyoto Tsushinsha Press

*This article was originally published in the newsletter "iCeMS Our World Your Future vol.9". All the information on this page, including the affiliation, is current at the time of publication.