Analysis Center
Analysis Center
Mineko Kengaku (Professor / PI / Center Director)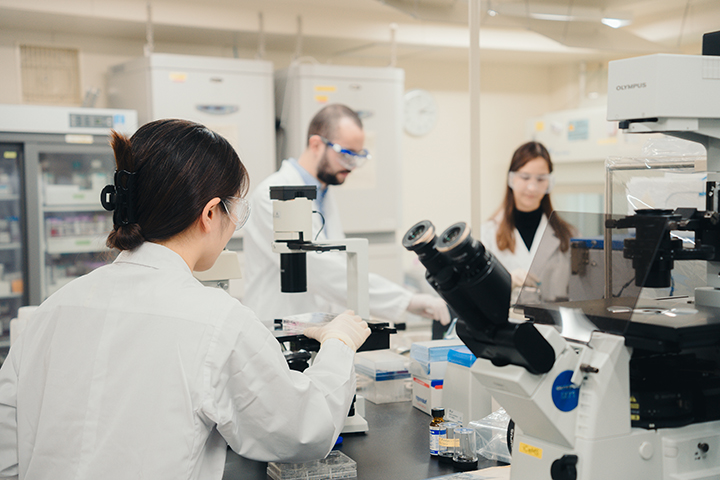 Since its inception, iCeMS has focused on developing technologies for the observation, mechanistic understanding, transformation, and manipulation of cell-material interfaces. Establishment of our Analysis Center was a milestone of the 10-year history of iCeMS, allowing access of its cutting-edge technologies and equipment to researchers for further advancement and deepening of cell-material science studies. The Center consists of the Materials Analysis Unit, with atomic/molecular characterization equipment, the Bioanalysis Unit, which has facilities for the observation and analysis of biological molecules and cells, and the Shared Equipment Support Unit supporting experimental research across the iCeMS and management and operation of the iCeMS Analysis Center, regardless of research field. The Center also provides workshops and hands-on training to cultivate and educate the scientific community worldwide, from young scientists in the making to full-fledged specialists stepping into a new field of study.
Bioanalysis Unit
Takahiro Fujiwara (Program-Specific Associate Professor)
Microscopes
The Bioanalysis Unit offers eight confocal microscopes for long-term observation of live cells at 37°C and 5% CO2 atmosphere. These include one high-speed spinning disk multi-point confocal microscope and four microscopes with super-resolution capabilities (based on STED, detector array, and frequency domain processing), and one of them is equipped with a multiphoton excitation laser for 3D observation. These advanced microscopes support the observation and analysis of a broad spectrum of cell dynamics and functions, ranging from subcellular molecular complexes to multicellular organization.
Molecular/Cellular Analysis
The Bioanalysis Unit also offers a flow cytometer and cell sorter for optical characterization and selective isolation of dispersed cells, as well as a capillary DNA sequencer and a capillary immunoblotting system. The cell sorter is equipped with four lasers, and is capable of single-cell sorting using multi-well plates, thus allowing research activities that require high-throughput identification and sampling of cells with various cytological properties. The capillary immunoblotting system is expected to provide more quantitatively accurate results by reducing experimental time without the use of gels nor membranes, and by reducing errors due to differences in experimenter technique.
Materials Analysis Unit
Masakazu Higuchi (Program-Specific Associate Professor)
Analysis
The Materials Analysis Unit provides support for the measurement and analysis of various physical properties, including nanoscopic morphology/state analysis (TEM, SEM), the analysis of electronic states and local structures around the specific element in a substance (XAS), and precision quantitative measurement of specific elements in the materials (ICP).
Evaluation
The Unit also provides measurement and analysis support necessary for the quantitative determination of materials contained in reaction systems (GC-MS), partial structural analysis for organic molecules (FT-IR), absorption tests for porous materials (e.g. BET specific surface area analysis and pore size distribution analysis), and characterization of chemical response properties.
Preparation
The sample preparation for electron microscopy and ICP, and handling of hazardous substances using a fume hood are also available.
Shared Equipment Support Unit
Takayuki Homma (Program-Specific Associate Professor)
The Shared Equipment Support Unit provides comprehensive support to researchers who are boldly pursuing interdisciplinary research, including management of shared equipment and laboratories in the iCeMS, introduction of appropriate equipment, design of how to use a new shared equipment and systems, management of equipment reservation systems, budget management including calculation of equipment usage fees and acquisition of external funding, training in safe equipment and laboratory usage, consultation on equipment for PIs moving in and out of the iCeMS, and administrative procedures for animal experiment facilities.
Atomis 総額12億円調達 4社と業務提携

長瀬産業、アトミスとMOF開発で提携

大学をとびだせ! "商業化"のタマゴ―先駆者に聞くスタートアップ企業

京都特集 超瞬間消臭技術を開発・大原パラヂウム化学

細胞内の分子観察用に強み 独社と京大 顕微鏡開発協定

アイセムス内に最先端開発拠点 京大と独の会社 共同で=京都

なぜ炭はにおいを消す?

京大特定助教 樋口雅一さん 「1秒後に変われる」

創造の精神 知って 京大助教 クイズ形式講演 正解求めず 子らに科学の面白さ紹介

高性能消臭剤 たばこ臭完封 京大と京の中小企業 開発タッグ PCP 国内初実用へ
Contact us
E-mail:info_ac [at] icems.kyoto-u.ac.jp / Phone:+81-75-753-9863