Analysis Center
Analysis Center
Mineko Kengaku (Professor / PI / Center Director)
Takayuki Homma (Program-Specific Assistant Professor)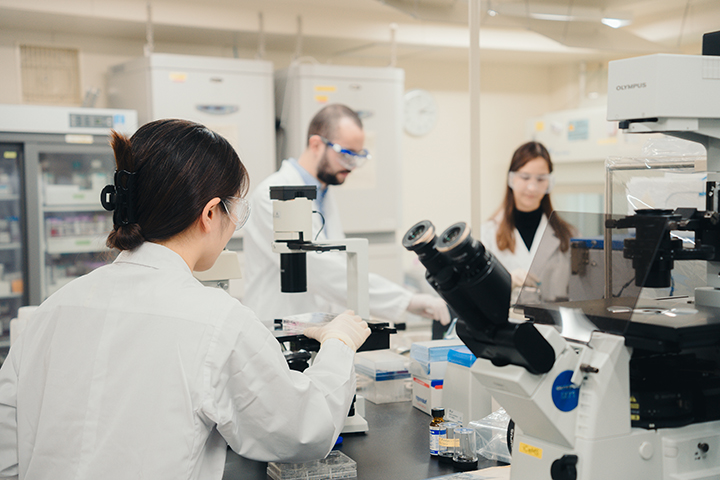 Since its inception, iCeMS has focused on developing technologies for the observation, mechanistic understanding, transformation, and manipulation of cell-material interfaces. Establishment of our Analysis Center was a milestone of the 10-year history of iCeMS, allowing access of its cutting-edge technologies and equipment to researchers for further advancement and deepening of cell-material science studies. The Center consists of the Materials Analysis Unit, with atomic/molecular characterization equipment, and the Bioanalysis Unit, which has facilities for the observation and analysis of biological molecules and cells. The Center also provides workshops and hands-on training to cultivate and educate the scientific community worldwide, from young scientists in the making to full-fledged specialists stepping into a new field of study.
Bioanalysis Unit
Takahiro Fujiwara (Program-Specific Associate Professor / Unit Leader)
Microscopes
The Bioanalysis Unit has in operation six confocal microscopes for long-term observation of live cells at 37°C and 5% CO2 atmosphere, one of which is equipped with a multiphoton excitation unit. Three of these microscopes are also equipped with super-resolution capabilities: stimulated emission depletion (STED), detector array-based, and frequency domain processing-based microscopies. These advanced microscopes support the observation and analysis of a broad spectrum of cell dynamics and functions, ranging from subcellular molecular complexes to multicellular organization.
Molecular/Cellular Analysis
The Bioanalysis Unit also offers a flow cytometer and cell sorter for optical characterization and selective isolation of dispersed cells, as well as a capillary DNA sequencer. The cell sorter is equipped with four lasers, and is capable of single-cell sorting using multi-well plates, thus allowing research activities that require high-throughput identification and sampling of cells with various cytological properties.
Materials Analysis Unit
Masakazu Higuchi (Program-Specific Assistant Professor / Unit Leader)
Analysis
The Materials Analysis Unit provides support for the measurement and analysis of various physical properties, including nanoscopic morphology/state analysis (TEM, SEM), the analysis of electronic states and local structures around the specific element in a substance (XAS), and precision quantitative measurement of specific elements in the materials (ICP).
Evaluation
The Unit also provides measurement and analysis support necessary for the quantitative determination of materials contained in reaction systems (GC-MS), partial structural analysis for organic molecules (FT-IR), absorption tests for porous materials (e.g. BET specific surface area analysis and pore size distribution analysis), and characterization of chemical response properties.
Preparation
The sample preparation for electron microscopy and ICP, and handling of hazardous substances using a fume hood are also available.
Contact us
E-mail:info_ac [at] icems.kyoto-u.ac.jp / Phone:+81-75-753-9863