UCLA – Kyoto University online Seminar series #1: New Developments in Cancer Research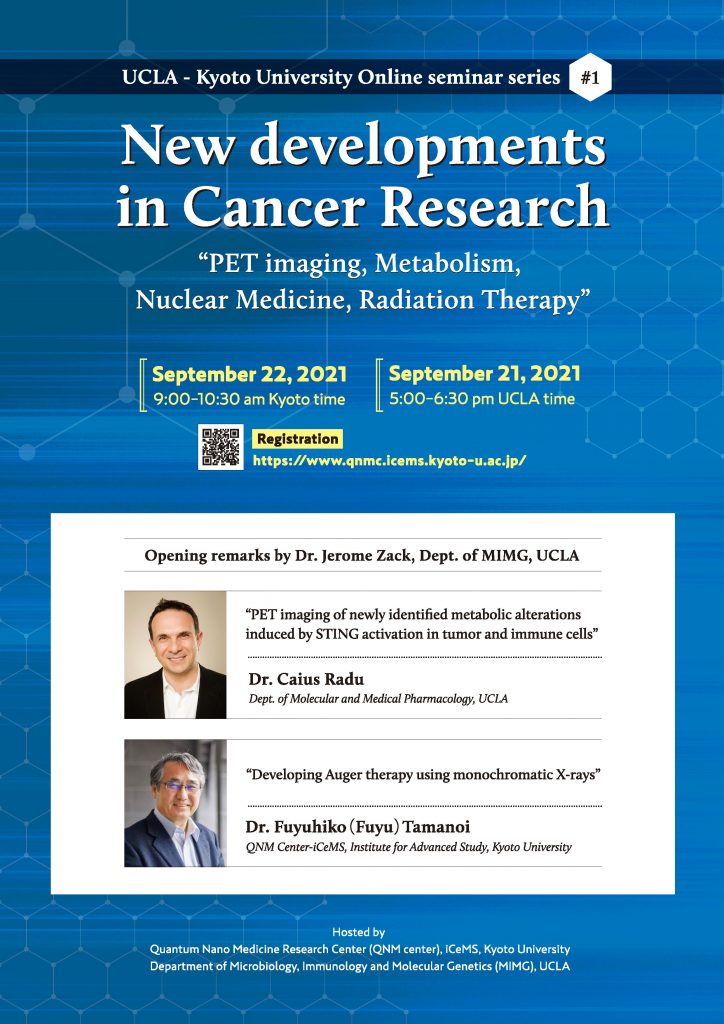 On September 22, the Quantum Nano Medicine Research Center (QNM Center), Kyoto University's iCeMS and UCLA's Department of Microbiology, Immunology and Molecular Genetics (MIMG) opened their joint online seminar series. The QNM Center is an on-site laboratory between the Kyoto University and UCLA led by Prof Fuyu Tamanoi. The series is the result of an ongoing collaboration between the institutions aimed at exchanging knowledge, researchers, and students.

The symposium titled "New Developments in Cancer Research: PET Imaging, Metabolism, Nuclear Medicine, Radiation Therapy" was chaired by Mathilde Laird (iCeMS) of the Tamanoi Group. Opening remarks were made by Dr Jerome Zack (MMIG, UCLA) who welcomed participants to the first academic exchange event between the two universities since they signed an MOU in February of this year.

Dr Caius Radu (Dept of Medicine and Medical Pharmacology, UCLA) presentation was titled, "PET imaging of newly identified metabolic alterations induced by STING activation in tumor and immune cells." Prof Tamanoi presented his recent research into developing Auger therapy with monochromatic X-rays.

The series will continue as a bimonthly event covering both innovations in cancer research and the biology of COVID-19. Every event will feature a speaker from each university. The next event will be held in late November or early December and focus on COVID-19.