iCeMS Researchers talk at the KU's On-site Lab Symposium held in San Diego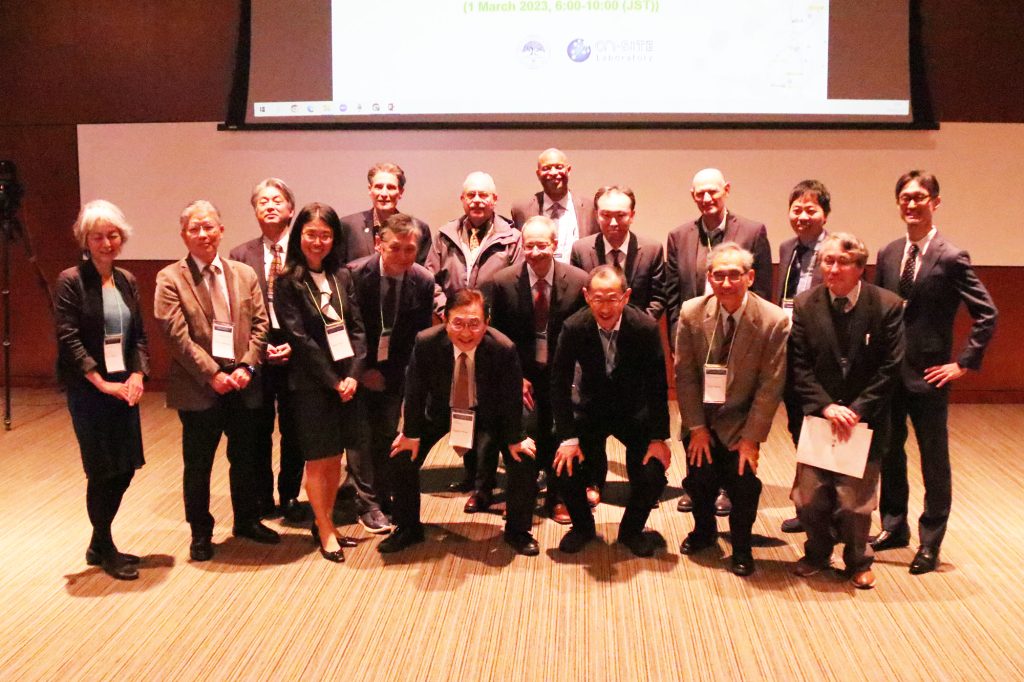 On February 28, Kyoto University held a symposium entitled "Transformative Innovations in Medical and Life Sciences: The 1st joint symposium of Kyoto University's Three North American On-site Labs" in San Diego, California. The half-day event brought together researchers in the medical and life sciences fields, including iCeMS Prof Fuyuhiko Tamanoi, director of the Quantum Nano Medicine Research Center (QNM Center), an On-site Lab co-run by iCeMS and University of California, Los Angeles, and iCeMS Deputy Director and Prof Jun Suzuki.

The symposium took place in-person at the Roth Auditorium of Sanford Consortium for Regenerative Medicine on the University of California San Diego campus and was also broadcast online via YouTube.

The event began with opening remarks by KU President and Prof Nagahiro Minato, who introduced the University's On-site Laboratory system and expressed his delight at the opportunity for academic exchange between the On-site Labs in North America. Corinne Peek-Asa, UCSD Vice Chancellor for Research at UCSD, also delivered her remarks to welcome everyone joining the symposium in-person and online.

The opening keynote was given by Prof Shinya Yamanaka, former director of the Center for iPS Cell Research and Application (CiRA). He talked about recent progress in iPS research and application, including clinical trials using iPS cells for diseases such as Parkinson's and Alzheimer's.

Three academic sessions were then held, with the first session themed "Stem Cells and Cell Reprogramming" and featuring talks by Dr Juan Carlos Izpisua Belmonte, Director of San Diego Institute of Science, and Prof Jun Takahashi, the current director of CiRA, on "Cell Rejuvenation and Disease" and "iPS Cell-Based Therapy for Parkinson's Disease," respectively.

The second session focused on "Quantum Science, Nanomedicine, and Radiation Therapy" and was chaired by iCeMS Prof Tamanoi. He presented the history and research of the QNM Center and introduced the first speaker, Prof Toshiki Tajima from the University of California, Irvine. Tajima's talk was about "Cancer Radiotherapy at the Tip of Endoscope Driven by Laser Wakefield Acceleration" introducing his research on micron-sized electron accelerators for medical purposes that can be placed inside the body. The second speaker, iCeMS Prof Jun Suzuki, talked about "Unbiased Screening Approaches to Explore the Field of Biomedical Sciences" He presented his latest research using the "revival screening" system that he developed to identify genes involved in cell death or diseases.

The third session, "Cancer immunotherapy," featured Kyoto University Research Center San Diego, with KU President Minato discussing the function of immune cells that change with age, and Dr Mitchell Kronenberg from La Jolla Institute for Immunology delivering a talk on "Memory responses by innate-like T cells."

After the three sessions, Prof Mitinori Saito, Director of KU's Advanced Study of Human Biology (ASHBi), delivered the closing keynote titled "From in vitro gametogenesis to human biology."

After the symposium, a reception was held where participants discussed future collaboration possibilities.

Then iCeMS and ASHBi researchers got together for more discussions, and talked over ideas for more collaboration between the two centers, especially in the field of biology.