IDM Online Workshop Series #4
Literature Mining: A Hands-On Tutorial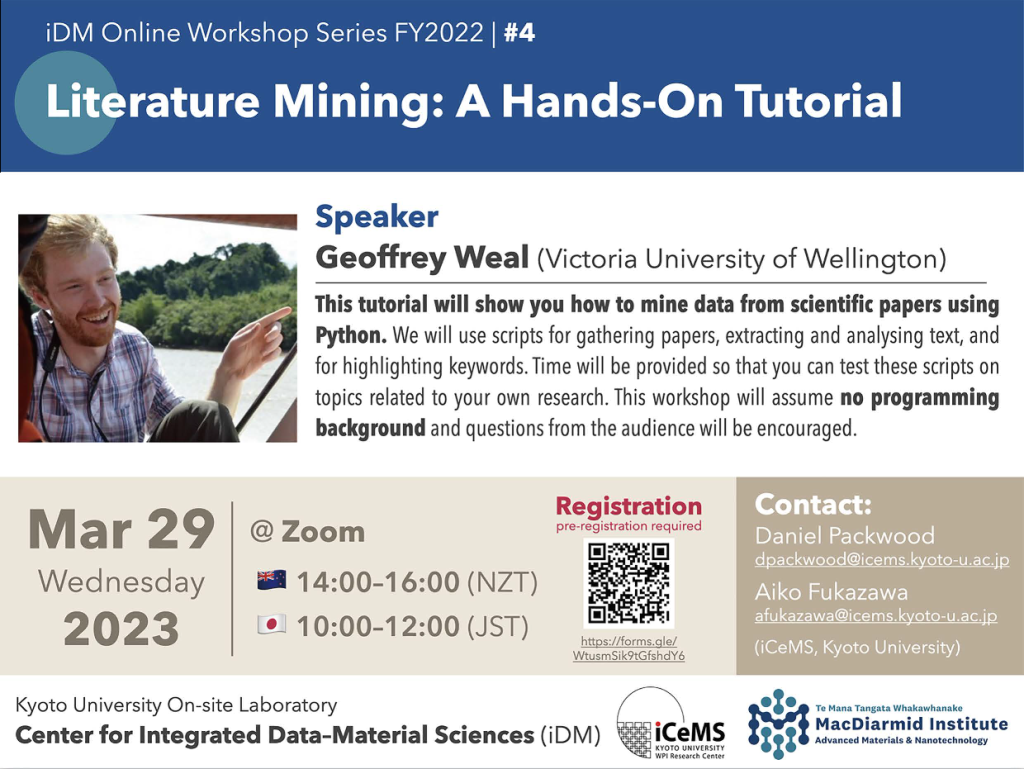 On March 29, iCeMS On-site Laboratory, the Center for Integrated Data-Material Sciences (iDM) hosted its fourth online workshop. iDM co-directors Dr Daniel Packwood and Prof Aiko Fukazawa invited a computational chemist Geoffrey Weal(Victoria University of Wellington) to address members' desire to deepen their understanding of data extraction.

Weal designed this hands-on introductory workshop to be accessible to those with no programming background. Participants were able to practice gathering research through Scopus and arXiv and then trying out the Python scripts Weal provided to quickly scour the literature for keywords and highlight potentially useful data. After following along with the demo, participants were encouraged to "have a play with your own research topic of interest." Weal was able to respond to questions in real-time, making edits to the scripts to change how data was sorted, and participants were able to help each other by providing additional database resources.

The workshop was only open to Kyoto University and MacDiarmid Institute members, but the high turnout showed a clear interest in the subject matter. As with the previous workshops, this experimental zoom lesson demonstrated new potentials and current limitations of the technology and illuminated more possibilities for future workshops as the iDM moves to promote novel materials research accelerated through the integration of data science.